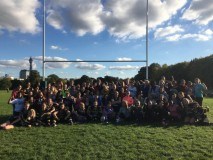 Don McDermott
Roehampton women's rugby have come a long way since the club was first formed in 2012 by then-second-year student April Windle.
This season, Roehampton joined a BUCS league for the first time and have been a solid success in the first term. The club are in joint first place with Kingston University in the South Eastern 3A league with two league wins and no losses.
Roehampton opened their BUCS campaign on 4 November with a commanding 32-12 victory over the Sussex 2nd team. They picked up their second win on 9 December, defeating the London School of Economics 2nd side, 20-5.
Current captain Jennifer Fairfield, who has been with the club since her first year, said she is proud to be part of the group of players who have finally broken into a BUCS league.
Fairfield said: "Competing in BUCS has been a goal of mine since I started playing for the team in first year, so I'm extremely proud and grateful I get to be part of this before I graduate. To see the club as an official part of fixtures on Wednesdays and the enthusiasm and commitment of the girls has made all the work behind this worthwhile!"
Fairfield added that the university sports directors have encouraged the growth of women's rugby at Roehampton, saying "Sport Roehampton in general have been extremely supportive in terms of acquiring coaches, advertising and keeping up links with our local RFU club, Barnes."
Roehampton women's rugby have a long Christmas break, but they will be back in action on 27 January as they continue their battle for promotion in their first-ever BUCS season.