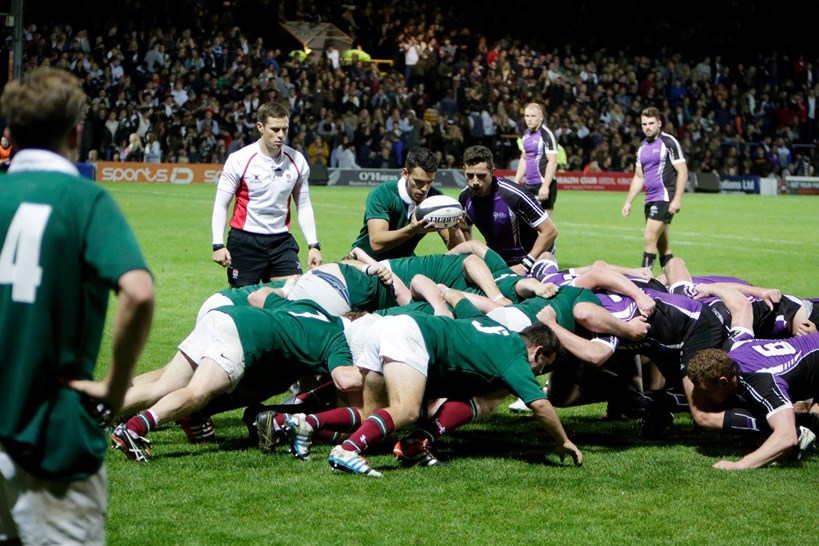 The Leeds Varsity blue-ribbon match between the men's rugby union teams certainly lived up to expectations. A crowd of over 14,250, more than at the evening's RWC fixture between Namibia and Georgia, descended on Headingley stadium and created an excellent atmosphere for one of the largest university sporting events in the country.
The game started quickly with Beckett camped on the University of Leeds line and in complete control; but Uni were organised and held their defence well. Unfortunately an injury to one of the Uni front row forced an early change and the oncoming prop's first job was to defend a Beckett five metre scrum.
A powerful Beckett drive, and poor discipline from Uni, meant that a penalty try was awarded. The try was converted by McIlwaine, 7-0. Beckett dominated and continued with their success in the line out followed by a powerful driving maul.
Throughout the first half Uni defended strongly but poor discipline meant they were pinned into their own half and struggled for possession. Following a series of penalties in key areas the Uni Number 8 was sin binned for collapsing the Beckett maul which had been building momentum.
Beckett, however, were unable to capitalise on the extra player and the score remained unchanged until the final play of the half when McIlwaine kicked a tough penalty. The half time score 10-0 and still everything to play for.
The second half started in similar vain to the first with Beckett scoring a try in the corner through Hutson. The early try was converted by McIlwaine giving Beckett a lead of 17-0. Following this start to the half Uni came back into the game and two successive penalties were kicked over by fly half Jamie Guy following a period of promising attacks.
This pressure from Uni continued and strong running alongside quick breakdowns gave full back Ethan Allen the opportunity to scor. A successful Guy conversion meant the score was now 20-13 and with less than 20 minutes to go.
Beckett's scrum had been dominant all game leading to a number of penalties, one of which providing Beckett with a kick attempt but this was unsuccessful. Shortly afterwards however, Beckett were able to pressure the Uni line and forced their second penalty try at the scrum, which was converted again by McIlwaine.
The game ended shortly afterwards with a final score of 27-13 and a win for Leeds Beckett both in the men's rugby and the overall varsity. With such effort and preparation being put into both team's performance, both sides can take much from the game. Beckett with great set play and dominant attack, while with Uni, although not the finished article and winning performance, can take many positives going into a long and arduous season.