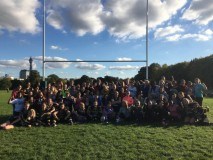 Since the World Cup victory of 2014, women's rugby has gone from strength to strength. There are now 20 full-time professional England Women's Rugby players and, while there is still a long way to go before reaching the level of Men's Rugby, the progress is really encouraging. Women's games are becoming more regularly televised and discussed, and with this increasing profile, we are seeing many more women getting involved in the sport themselves.
One look at the dramatic increase in participation at a university level shows the positive impact all this has had. As an example, LSE women's rugby club had almost 100 new players turn up to the first give-it-a-go session of the year. On top of this, LSE Women have entered a second team into the BUCS league for the first time and the development of a third team looks likely.
Now, four weeks into term, Regent's Park is full of women playing rugby. At training last Wednesday, there were hundreds of girls from several different universities. In previous years, we have been able to share the space with ease but this time, there number of players far surpassed the size of the pitch. The newly established 'Ladies in London' team consists of girls from SOAS, City of London, Westminster, West London and University of Arts London and they had a huge turn out. As well as this, the RFU training and development session was also taking place which was as well attended as ever. To look around and see so many women playing rugby in one place just shows how much of a difference increasing opportunities and better coverage makes. What a success!